The Institute has fully equipped laboratories to meet curriculum demands of NCTE and Lucknow University for practical's, large, spacious, well furnished and fully equipped laboratories with state of art technology (modern) equipment are set up to provide practical training to the students.
---
Class Rooms:- Total No. of class room 6
---
For B.Ed. – 4 Classrooms
For D.El.Ed.- 2 Classrooms
The Central Library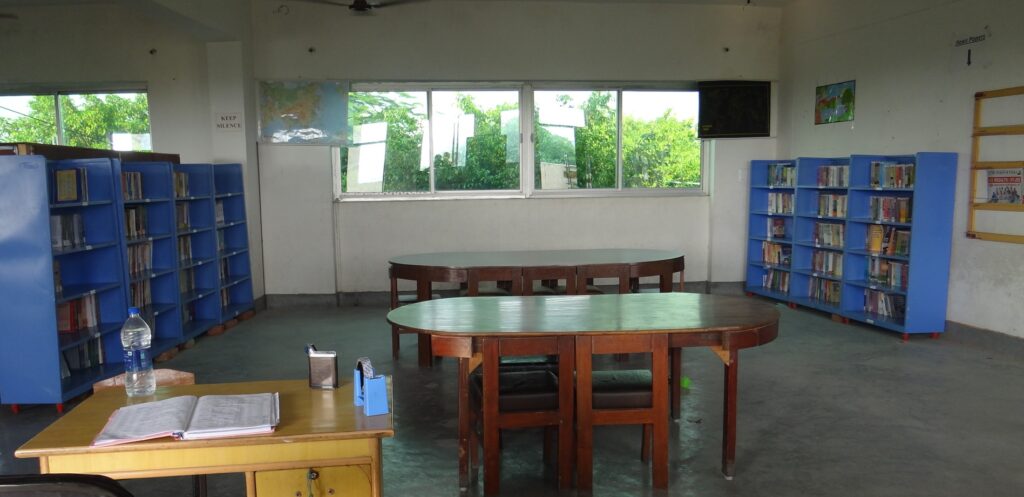 ---
The library is the main support hub for information, learning and meets the needs of the Institute's teaching, research and consultancy programs. The library has the following objectives:
To support learning process of students in various academic programs through provision of knowledge and information.
To meet the knowledge / information needs of the faculty and support their teaching, research and other academic activities.
To respond effectively to other knowledge / information needs of faculty and students.
The Library has various sections such as circulation section, reference section, reading hall, internet section, photocopy section and technical section. Is also has a very large collection of CD's on engineering.
The Library provides a peaceful environment for reading newspapers, magazines, journals, periodicals for studying and reference.
Number of Books in B.Ed. :- 3384
Number of Books in D.El.Ed. :- 1380
Covid-19 Pandemic has hampered purchase of new books etc. in last quarter.
Psychology Lab
Resource Centre holds the major psychometric tests used in clinical/applied, neuropsychology, and organisational psychology offers mentoring and support for undergraduate students in their psychology courses.
---
Educational Science Lab
Educational Science and Mathematics Resource Centre At the Math and Science Resource Center we strive to create an environment that fosters a balance of intellectual stimulation with productive and engaging academic support for our students. The resource center is a welcoming atmosphere for all students enrolled in math, science, statistics, and other quantitative courses. The student centered learning and enrichment facility, led by content qualified peer tutors, is designed to help all students achieve their highest potential as they aim to reach their academic goals.
---
Sports Room
Health and Physical EducationPhysical education or health and physical education are the areas of knowledge that will ultimately drive our success engine. We are physical and spiritual beings. Our mind, body, and spirit are all connected and learning how they work together and how to care for them can save us from unnecessary pain and suffering. Knowing how to take care of our body, mind, and spirit will lead us down the path toward happiness, health, and wealth.
---
Computer Lab
Institute provides state of the art computing facilities to students & faculty members. The Center has cluster of software's based on LINUX, WINDOWS, XP, Vista and 2000 Servers, configured with software's such as C,C++, Visual Basic, Java and Oracle and 9i / 10g developer. There are 120 computers – Core 2 Duo, connected through high speed switches on a Local Area Network. Internet is available with a speed of 200 MBPS (Fiber Net) having a ratio of 1:1. A large number of system software & application software are available LINUX, WINDOWS, XP, VISTA, C, C++, Visual Basic, Java, Oracle etc. All computers are connected on LAN & WAN.
The Computer Center is well equipped with the following:- The collection includes:
Books & E – books
Reference sources
Periodicals & E – Journals
Audio – visual materials, etc
Reprographics facilities
---
LANGUAGE LAB
The purpose of a language lab is to involve students to actively participate in language learning exercises and get more practice than otherwise possible in a traditional classroom environment.
Text, images, audio and video can easily be integrated; teachers can alter materials to fit their requirements
Learners can record their own voice and play back the recordings, interact with eachother and the teacher, and store results
Teachers can intervene and control the learners' computers via the teacher's console, track of learners' work, etc.
Self-access for independent learning which includes access to resources outside class
---
---
Multipurpose Hall
---
---
Facilities added during the last quarter –
20kw Solar Power Grid Installation
Our institute provide the availability/facility of electricity generation through the Solar Panel-Plant, as we have installed 20 KW Solar Energy Panel in our campus and facilitate extra units to Electric Department (UPPCL) for the purpose of domestic consumers.